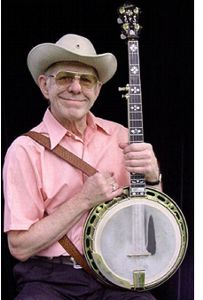 The eldest of the Dillard brothers, Doug Dillard passed away Wednesday night, May 16, 2012. He and his brother Rodney performed during the rise of the folk, bluegrass and acoustic scene of the '60s and '70s. The Dillards became household names as "The Darlings" on the Andy Griffith Show. Doug had been of ill health and passed away at a Nashville hospital Wednesday of a lung infection.
Douglas Flint "Doug" Dillard was born in Salem Missouri on March 6, 1937. The Dillards, with Doug on banjo and Rodney on guitar, grew up playing music with their family and friends including a teenaged John Hartford, in Missouri. They performed on a St. Louis radio station as The Dillard Brothers in 1958, recording for a local label. The Dillards played their first show at Washington University in St. Louis and hit the road for Los Angeles in 1962. A DesiLu Studios rep saw an ad in Variety magazine about Elektra signing The Dillards, and within days they were called in to audition for the role of The Darlins on The Andy Griffith Show.
The Dillards incorporated stand-up comedy into their stage show, and their talents as entertainers brought bluegrass to new audiences in urban clubs from L.A. to New York City, on college campuses, in movie scores, at folk festivals and on tour with mainstream rock bands and comedians. The band's unique flair for songwriting and arrangement affected a broad range of important future musicians in the bluegrass and pop music world alike, and they are credited with helping set the stage for the "country rock" movement and the burgeoning progressive sounds of bluegrass. The Dillards were inducted into the International Bluegrass Hall of Fame in 2009.
The Dillard brothers were active and influential during the late 1960s folk and bluegrass music scene. They were the foundation of progressive bluegrass and even performed with electrified instruments -- something considered taboo by bluegrass traditionalists. As members of The Darlings on the Andy Griffith Show, they expanded their reach bringinb bluegrass music to people across the nation.
The Dillards were also notable songwriters and wrote many original songs. Their classic songs have become bluegrass standards like "The Old Home Place," "Dooley," "Doug's Tune," "Banjo in the Holler" and "There is a Time." Doug began playing music as a child and played guitar and banjo. He followed the Earl Scruggs 3-finger style of banjo. Earl Scruggs also recently passed away.
Doug teamed up with Gene Clark forming Dillard & Clark. Gene was well known with The Byrds and they joined the Southern California country rock movement. Their influence on America's music continued to expand as other groups took their queue and implemented Dillard & Clark style into their own music.
Doug and his brother were inducted into both the IBMA Hall of Honor and the SPBGMA Hall of Fame. param name=