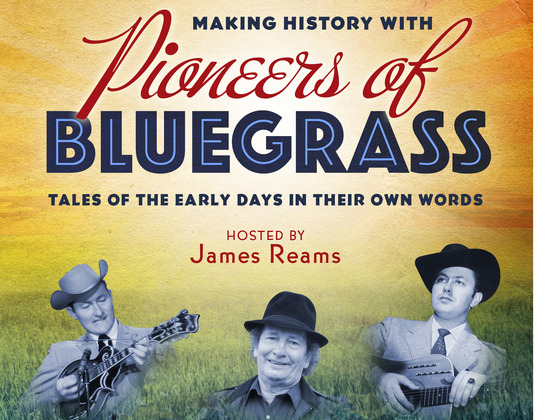 The brainstorm of James Reams and his partner, Tina Aridas, the DVD documentary Making History with Pioneers of Bluegrass got started back in 2002 at the grand opening of the International Bluegrass Music Museum. This labor of love was shot with minimal equipment on tour buses, backstage before performances, and even on front porches. The plan was to make the viewer feel like they are sitting right there with these bluegrass greats just shooting the breeze.
The film includes behind the scenes interviews with Jimmy Martin, Melvin Goins, Kenny Baker, Bobby Osborne, Bill Yates, Curly Seckler and many others who helped create bluegrass music. Time after time, these pioneers stated that one man didn't create this genre, it was born from the dedication of many old time musicians that took their licks and gave them right back again in the form of their music. Like Eddie Adcock so "eloquently" puts it in the film, "Most bluegrass musicians, even though we're eating sardines and Vienna sausages, we always thought we'd make it someday."
"Back when we were playing, we didn't realize that we were making history, but we were."
~ Art Stamper, from Making History with Pioneers of Bluegrass.
Many of those interviewed volunteered words of wisdom for the up and coming bluegrass artists of the future, including J.D. Crowe's sage advice "Go back and learn it from the start, learn where it came from, learn that first. That's where it is. That's where it all happens."
And that's precisely what this film does. It provides a medium for die hard bluegrass fans and those new to the music to connect with these bluegrass trailblazers — to learn where the music came from. Many of those in this documentary have since passed away; their interviews here representing their final filmed appearance and a vital piece of the history of bluegrass. This simple, yet highly personal, documentary provides a link to the past rarely experienced in today's modern video productions.
Unfortunately, post production expenses have exceeded the producer's meager pocketbook. So we have launched a Kickstarter Campaign to appeal to fans everywhere to help us get this film out the door and into your hands.
Because we feel that the tales in this documentary are from the heart of these bluegrass legends spoken directly to fans of bluegrass everywhere, we have decided to donate a major portion of the proceeds to the International Bluegrass Music Museum — where the film got it's start. And those who contribute to the Kickstarter Campaign at the $25 level and higher will receive a copy of the DVD when it's released in 2013.
This documentary truly is a labor of love — to honor the legacy of these early pioneers and to reward the loyal fans of bluegrass music. We encourage everyone who loves bluegrass to support us and help us get this film wrapped up by going to Kickstarter: (http://www.kickstarter.com/projects/984757469/pioneers-of-bluegrass-musi... [1]) and pledging any amount today. We don't receive a dime (and the donors don't pay a dime) if the campaign doesn't reach its' goal by the deadline.