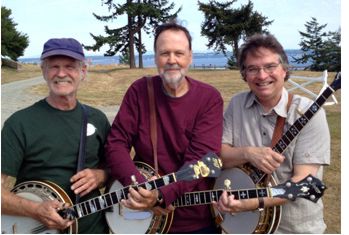 Bluegrass music banjo artist/instructor/composer Bill Evans wants to let you know about three northern California concerts and an afternoon of workshops featuring banjo legends Bill Keith & Alan Munde, along with Bill that is happening November 16-18 in northern California.
For all levels of bluegrass banjo players, Keith, Munde & Evans will each teach three 60-minute small group sessions and then come together for a final session with all students. This is a hands-on, "bring your banjo and let's pick" event with hands-on workshop topics designed for beginning, intermediate and advanced banjo players. Experience this unique opportunity to learn up close from three of the best players – and teachers – in the world. Don't forget to grab dinner in downtown Berkeley and come back by 8 p.m. to enjoy an incredible concert!
Note: Pre-registration is strongly recommended for this event. Those choosing to register on the day of the event should arrive by 12:15 p.m. Students have their choice of any session at any time - there is no pre-registration for the individual sessions (we'll have plenty of space to fit everyone - don't worry!). While students can choose any workshop
topic, the instructors will present each topic for the student level indicated.
Here's all the info you need:
The 1st Annual California Banjo Extravaganza with Bill Keith, Alan Munde and Bill Evans with special guests John Reischman (mandolin), Jim Nunally (guitar), Chad Manning (fiddle) and Sharon Gilchrist (bass)
Friday, November 16, 8 p.m. Winters, CA: The Palms Playhouse, 13 Main Street, tickets $22, info at http://www.palmsplayhouse.com [1] or 530-795-1825.
Saturday, November 17, Berkeley, CA, Freight and Salvage Coffeehouse, 2020 Addison Street, A Bluegrass Banjo Mini-Camp with Bill Keith, Alan Munde & Bill Evans from 1 to 5 p.m. Four hours of small group workshop sessions for all levels of bluegrass banjo players. Check out workshop topics by linking to: http://bit.ly/UDWc1w [2]
John Reischman will also be teaching a mandolin workshop at the Freight from 2 to 4 p.m.:
Saturday, November 17, Berkeley, CA: The Freight and Salvage Coffeehouse, 2020 Addison St. Tickets $26.50 in advance / $28.50 at the door. Info at http://bit.ly/TC4A0r [4] or 510-644-2020.
Sunday, November 18, Felton, CA (Santa Cruz mountains), Don Quixote's International Music Hall, 6275 Highway 9, 7 p.m. concert. Info at 831-603-2294 or http://www.DonQuixotesMusic.info [5]
I hope some of you living in the Sacramento / San Francisco Bay Area / Santa Cruz area will join us for one of these upcoming shows and the Saturday afternoon workshop.
Bill Evans, www.BillEvansBanjo.com [6]