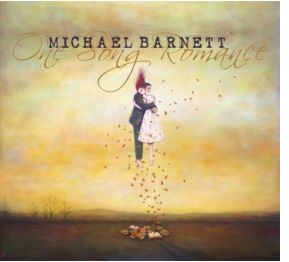 Nashville, TN -- From a young age, Mike Barnett has made his mark on the bluegrass world as an extremely talented fiddler. He has toured as a member of Jesse McReynolds and the Virginia Boys, the David Grisman Sextet and the progressive bluegrass quintet, The Deadly Gentleman, which he co-founded. With the release of his debut solo project, One Song Romance, Barnett is poised to establish himself as a solo artist with a broad and engaging musical vision that reaches from bluegrass into acoustic jazz and beyond.
Barnett penned all of the music on the twelve-track album which showcases his vocal abilities as well as his virtuosic fiddle technique. The tracks moves from slick bluegrass fiddling ("More Strangs") through Celtic ("Change Her Mind"), swing ("Dig, Dig, Dig") and neo-grass on the album's opener "It'll Be All Right." Special guests and collaborators include Aoife O'Donovan, Tim O'Brien, Noam Pikelny, David Grier, Dominick Leslie, Chris Eldridge and more.
Born and raised in Nashville, Tennessee, Michael Barnett began studying the fiddle at age 10 and by age 15 was touring with the legendary "Mr. Mandolin" Jesse McReynolds and the Virginia Boys, playing regular weekend performances on the Grand Ole Opry. That same year, at age 15, he became the youngest instructor ever to teach at the fiddle school at Vanderbilt University.
Barnett later relocated to the Northeast where he has built his profile touring and recording with Jonathan Edwards, Tony Trishcka and Gordon Stone. In 2010 Barnett and banjoist Greg Liszt co-founded The Deadly Gentlemen, a progressive bluegrass outfit that allowed Mike the space to push the limits of traditional fiddle playing and incorporate new influences into his constantly evolving style. After four years with the group, Barnett will now focus on exploring his solo career path.
Compass Records has been described by Billboard Magazine as "one of the leading independent labels." The label group is home to more than 500 releases across the Compass Records, Green Linnet and Mulligan Records imprints with a roster that boasts a variety of artists including Mike Farris, John Cowan, The Duhks, Justin Currie, David Mayfield, Luka Bloom, Frank Solivan & Dirty Kitchen, Michael Cleveland & Flamekeeper, Colin Hay, A.J. Croce, Victor Wooten, Claire Lynch, The Farewell Drifters, Darden Smith, BeauSoleil, Jim Oblon, Special Consensus and label co-founder Alison Brown. For more information, visit www.compassrecords.com [1]