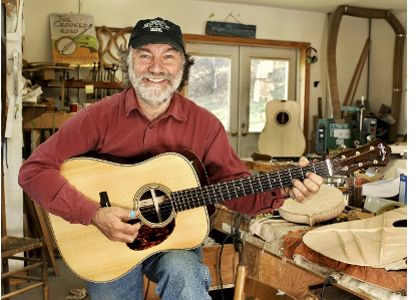 Hiltons, VA -- Wayne Henderson's top-notch finger-picking is a source of great pleasure and pride to his friends, family, and neighbors in Grayson County, Virginia. His guitar playing has also been enjoyed at Carnegie Hall, in three national tours of Masters of the Steel-String Guitar, and in seven nations in Asia. In addition to his reputation as a guitarist, Henderson is a luthier of great renown. He is a recipient of a 1995 National Heritage Award presented by the National Endowment for the Arts. He produces about twenty instruments a year, mostly guitars; he is almost as well-known for the mandolins he has made. Doc Watson owned a Henderson mandolin. Friday, September 12th, 2014, at 7:30 p.m. the Carter Family Fold in Hiltons, Virginia, will present a concert by both an old time band and a bluegrass band - Wayne Henderson and Friends with Big Country Bluegrass. This special concert is part of our Footstompin' Friday concert series. Admission is $10 for adults, $1 for children 6 to 11, under age 6 free.
Some of Henderson's instruments are intricately decorated, but they are most respected for their volume, tone, and resonance. Blues guitarist John Cephas said that Wayne Henderson "is probably the most masterful guitar maker in this whole United States." There is a waiting list for Henderson's guitars made up of the "famous (and not-so-famous)." He built a custom guitar for Eric Clapton. Above and beyond his great talents as a musician and instrument maker, Wayne Henderson is known as a "friend to everyone" and shares his talents and knowledge unselfishly.
Rounding out Wayne's group of friends accompanying him will be Helen White on fiddle and guitar, Greg Cornett on banjo and vocals, and Herb Key on bass. For one of the best nights of old time music you can imagine, don't miss Wayne Henderson and Friends with Jeff Little. Be sure to bring along your dancing shoes – and your friends!
Big Country Bluegrass was formed by husband and wife Tommy and Teresa Sells in the late 1980s and took its' name from Tommy's coon-hunting buddy Jimmy Martin's instrumental Big Country. The group delivers their own hard driving and heartfelt style of bluegrass music, and it makes them crowd favorites wherever they perform. Whether it's at a festival in Missouri, on the stage of the Grand Ole Opry, or at a small, intimate concert in their hometown of Independence, Virginia, the band brings back memories reminiscent of the early days of bluegrass music.
All the band's members live in and around the Virginia/Carolina Blue Ridge, and their music reflects much of the deep musical heritage found in this region which is at the heart of the Crooked Road Music Trail. Tommy Sells plays mandolin and handles most of the emcee work. Teresa Sells plays rhythm guitar and sings lead and high harmony vocals. Eddie Gill handles most of the distinctive lead vocals and also plays the guitar. Lynnwood Lunsford, a former member of both the Lost and Found and Jimmy Martin's Sunny Mountain Boys, plays banjo and sings harmony for the group. Tony King plays upright bass for the group.
Big Country Bluegrass plays music that has become known to many as Galax or Mt. Airy style bluegrass. It is straight ahead, hard edged bluegrass with no frills. The rhythm and timing are solid, the instrumental work is clean and tasteful, and the vocals are from the heart.
The band has released over a dozen albums and CDs over the years. Their latest release, The Boys in Hats and Ties, has garnered the prestigious # 1 spot in both the Bluegrass Unlimited magazine and the Bluegrass Music Profiles' radio air-play charts. Tom T. and Dixie Hall wrote the title track. For more information on the band, go to http://www.bigcountrybluegrass.com/ [1].
Come out and join us for a special evening of bluegrass and old time music. The only thing better than seeing one band that's a Carter Fold favorite is seeing two bands that are Carter Fold favorites. For a special, memorable evening of music and family fun, come out and join us for this special concert. Bring along your dancing shoes – and all your friends!
Carter Family Memorial Music Center, Incorporated, is a nonprofit, rural arts organization established to preserve traditional, acoustic, mountain music. For further information on the center, go to http://www.carterfamilyfold.org [2]. Shows from the Carter Family Fold can be accessed on the internet at http://www.carterfoldshow.com [3].
Carter Music Center is part of the Crooked Road: Virginia's Heritage Music Trail. You can visit the Crooked Road Music Trail site at http://thecrookedroad.org [4]. Partial funding for programs at the center is provided by the Virginia Commission for the Arts and the National Endowment for the Arts. For recorded information on shows coming up at the Fold, call 276-386-6054. The Fold is on Facebook – page Carter Fold – and Twitter – Twitter @carterfoldinfo. To speak to a Fold staff member, call 276-594-0676.