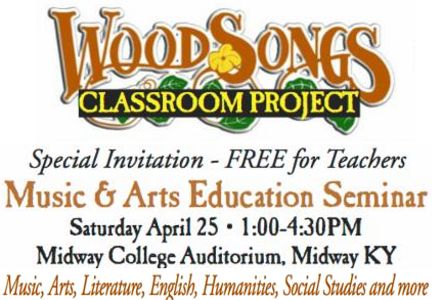 Teachers and Home School Parents of Central Kentucky are invited to a very special half-day seminar Saturday April 25th from 1:00 until 4:30pm to explore how to help your students learn a true appreciation for the art of music and how it positively affects their lives, families, friends and community. As a leader in the arts, don't miss this opportunity to bring excitement, enjoyment and learning to your classrooms. For FREE. This is a very special one day seminar to explore this topic and sample the new WoodSongs Classroom project for your students. The WoodSongs Arts & Music Seminar will be held in the Duthie Theater in the Anne Hart Raymond Building on the campus of beautiful Midway College in Midway, KY (20 minutes from Lexington).
The day will include lectures, discussions, music performances by incredible youngsters (you will be awestruck!) Learn how to use the WoodSongs Classroom project and associated lesson plans (middle, high school and college) and how to launch a School Music Series, an actual in-school WoodSongs Coffeehouse plus a showing of the film Walden: The Ballad of Thoreau.
Visit the Classroom Page [1] at WoodSongs.com for more information. You can register now for your free tickets(s) to the seminar. Any middle, high, private, college teacher and home school parent may attend. We will have plenty of inspiration, music, refreshments and fun. This event is free to teachers. The 435 tickets are first come, first served. Nothing is being sold the day of the event.
Teachers will enjoy performances by several youngsters ... fiddle, banjo, guitar and more. Lecturers will include Michael Johnathon, Dr. Ron Pen (University of Kentucky), Raymond McLain Director of the Kentucky School of Traditional Music at Morehead State University and many more to show how to bring the "front porch" into classrooms, how to use the WoodSongs Classroom Project for students, how to start an in-school WoodSongs Music Series ... plus a showing of the Walden Play movie. The event begins at 1PM sharp, drinks and refreshments (all free) will be available to our attendees.
We live among the first generation in human history that explores most of their art and music as a flat screen, two dimension event. Think of it - they are emailed an MP3 from a friend, they Google the band, YouTube the band, iTunes the band, download the band ... and they're done. The loss of organic, honest, front porch, three-dimensional art and music affects how students live, learn, feel, grow and interact with their community, fellow students, family ... and their future. It's a fact: our two-dimensional, flat screen cyber world has created the most isolated generation in human history. We want to help caring teachers and home school parents change that.
To register, visit http://www.woodsongs.com/woodsongs-teachers [2], call 859-255-5700 0r email Teachers@woodsongs.com [3]. This program is being presented by the members of the WoodSongs Front Porch Association, the Museum of Appalachia and others.