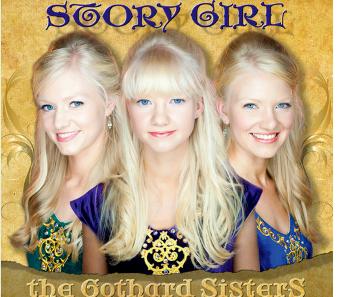 Seattle, WA -- Three young women - dancers and musicians from Seattle, are set to release their exciting new original and Celtic-inspired album, Story Girl on November 1st. Greta Gothard (24), Willow Gothard (22) and Solana Gothard (16), all three sisters who live in Edmonds, WA, are preparing to release their 6th independent album later this month, marking a new stage in the careers of these rising Celtic dance and music stars from the Pacific Northwest.
The album, Story Girl, consists of twelve original and traditional Celtic songs, each providing listeners with rich soundscapes of violin harmonies, guitars, vocals, Irish dancing and lots of percussion. The rhythmic undercurrent bears testament to the sisters' bodhran (a traditional Irish drum) playing as well as the drums of Seattle drummer Darin Watkins, and the music is punctuated throughout with elements of rock, bluegrass, folk rock, Celtic dance tunes and classical music.
Recorded by Kent Harrison of Sammamish Sound Studios in Sammamish, this album was written almost entirely by the three sisters, who also played almost every instrument, sound and note heard on the CD. Between the three girls they have played violin, guitar, electric guitar, mandolin, bodhran, cajon, tambourine, percussion, vocals, keys, and dance taps.
The album's release also coincides with the sisters' inclusion of a track from their last CD, a Christmas release, on a Celtic Christmas compilation album put out by Putumayo World Music label in New York. The girls are thrilled to be included in this compilation, which features unique and beautiful arrangements of traditional Celtic Christmas songs and features other musicians from around the world, including Dougie MacLean, David Arkenstone, Druid Stone and Aine Minogue. The album, "Celtic Christmas" will be released on October 25th and can be seen here.
The theme of the album expands on the idea of the title, "Story Girl," which reflects the way the girls grew up with stories and imagination. Their fresh sound is a mix of classical violin and folk music, sometimes dipping into bluegrass in the popgrass style of Nickel Creek, and traditional Celtic music. At other times venturing into the folk rock genre, they are cheerful and joyful with their driving dance tracks and song poems. The album is meant to be a springboard for the audiences' imagination, with more than the usual quota of instrumental tracks, arranged like Celtic chamber music with percussion.
The album will be launching shortly and pre-orders are already being taken. Fans are encouraged to visit the Gothard Sisters' Website, www.GothardSisters.com [1], which provides everything you could want to know about the young musicians and dancers. As well as checking out videos of the girls in action (including soon-to-be-released music videos of songs from Story Girl shot in scenic landmark locations across Washington State) and photos of them in action, you can also sign up for the mailing list to receive news and information about upcoming shows and new releases.