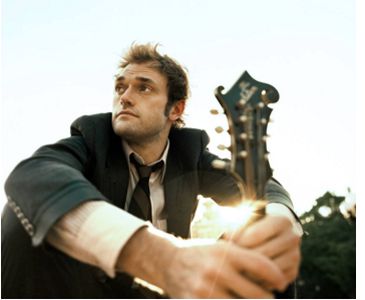 The social media scene on the Internet has been buzzing with articles indicating that mandolinist Chris Thile will be assuming the host role on A Prairie Home Companion. Garrison Keillor has been the host since he created the program. Keillor has hinted multiple times in the past that he was considering retirement from the program. We contacted both Thile's management and A Prairie Home Companion for any confirmation but after a couple of days, we have heard nothing from either so cannot confirm this 100%.
Thile, a consumate mandolinist is actively performing with Punch Brothers and Nickle Creek, a band he performed in regionally when he was just getting started in music. Sara Watkins also of Nickle Creek was also allegedly offered the host position but nothing apparently came of this offer. Both artists have appeared on A Prairie Home Companion multiple times.
Thile has performed on the show, most recently last February when he guest hosted the program twice that month. Chris Thile made his first appearance on A Prairie Home Companion in 1996. He was 15 and had already been playing mandolin for a decade. He had also started Nickel Creek with Sara and Sean Watkins, and released his first solo album, 1994's Leading Off. This Grammy winner and MacArthur "genius" grant recipient now collaborates with many musicians in myriad styles and leads acoustic quintet Punch Brothers.
Thile has already guest hosted the program a couple of times and was well received in the role. And, as the rumor mill churns, there is speculation that Thile will be hosting more shows in the coming season. Obviously, should he become the full time host, he will be hosting more than just a couple.
There has been plenty of adventure in the past 30-plus years — broadcasts from Canada, Ireland, Scotland, England, Germany, Iceland and almost every one of the 50 states; wonderful performers, little-known and world-renowned; standing ovations and stares of bewilderment. We've missed planes, coped with lost luggage, dodged swooping bats and hungry mosquitoes, plodded through blizzards, and flown by the seat of our pants.
Today, A Prairie Home Companion is heard by 4 million listeners each week on nearly 700 public radio stations, online, and on the American Forces Networks, SiriusXM Radio, Radio New Zealand, and KPRG in Guam. Garrison recalls, "When the show started, it was something funny to do with my friends, and then it became an achievement that I hoped would be successful, and now it's a good way of life."
A Prairie Home Companion is produced by Prairie Home Productions, and distributed nationwide by American Public Media. The program is underwritten by Ford