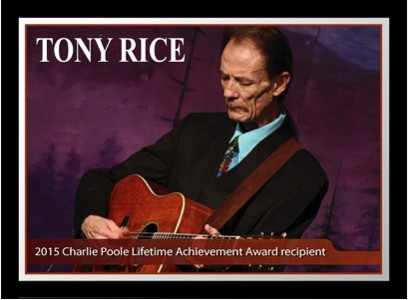 Sunday, June 12th, The Charlie Poole Music Festival awarded their Lifetime Achievement Award to bluegrass guitar master Tony Rice. This is a great award and was almost on time for Rice's 64th birthday which he celebrated June 8th.
No guitarist in at least four decades has left such an indelible mark on bluegrass music and hard-driving guitar performances than Tony Rice. Rice is comfortable in a broad range of other musical styles also. As an American acoustic guitar master and legend, his style has been the benchmark that others have tried to emulate and achieve. Students and scholars alike have studied his style, technique, method and the dexterity of both hands as they evolve and mature in their own playing.
Due to a throat condition called Muscle Tension Dysphonia, Rice lost his singing voice and quit singing in 1994. He made a surprising and difficult talk during the 2013 IBMA awards as he displayed his "natural voice" for the first time in 19 years. When he spoke his "But I wanna be able to tell Alison that now I am speaking in my real voice" words, the room fell silent. Alison Krauss had just backed out of her performance due to her own problems with Dysphonia. It was a moment of shock, surprise, blessings and relief. His voice was back but, only for short speaking -- not for song.
Legends are bigger than life. Certainly Rice has not only experienced it but, has graciously shared his talent around the globe. He has recorded for entertainment, history and for the benefit of others. He has been recorded on numerous albums besides his own. His contribution to acoustic guitar and bluegrass music can not be understated.
The festival celebrates the life and music of Charlie Poole and his band-mates, The North Carolina Ramblers. Poole was a pioneer in music and an early entertainer in the country and bluegrass music genres. Poole and the band went to New York City in 1925, auditioned for Columbia Records, and recorded four tracks for the label. Poole played banjo and performed songs that are creeping back into notice such as "White House Blues."
In 1931, Poole was supposed to write and record music for a film, but died of heart failure before he could make the trip to Hollywood. His legacy is carried forward through the music of the new North Carolina Ramblers and their leader, Kinney Rorrer. The band makes use of the sounds of the original band, including banjo and other stringed instruments popular in the 1920's. Rorrer and his brother, Doug, are nephews of Poole. The group continues to focus on old-time music.
Through the years, this event has featured many of the legends in Americana music – Mike Seeger, Norman & Nancy Blake, Tony Rice, J.D. Crowe, the Osborne Brothers, Alice Gerrard, Tony Trischka, and Bryan Bowers – as well as some of the brightest stars of today – The Carolina Chocolate Drops, the Wiyos, and Uncle Earl – all in honor of a true icon in American music – Charlie Poole.
The Charlie Poole Music Festival, now celebrating its 20th year, is a project of Piedmont Folk Legacies, Inc., a non-profit organization whose mission is to promote and preserve the musical and cultural legacy of the Piedmont region and to celebrate its influence on the development of American vernacular music, as exemplified by Charlie Poole. The festival is held each year on the second weekend of June in Eden, North Carolina, home and final resting place of Poole. Fans come from far and wide to celebrate the special contribution that Charlie Poole and the North Carolina Ramblers made to American music.
Also a project of Piedmont Folk Legacies is the development of the National Banjo Center. Proposed facets of this center would include permanent and changing exhibits, an archival repository for banjos and related materials and documents, classroom space for workshops and music instruction, a performance theater, recording studio, and incubator space for music instrument makers. The center is to be housed in the historic textile mill complex where Charlie Poole worked.