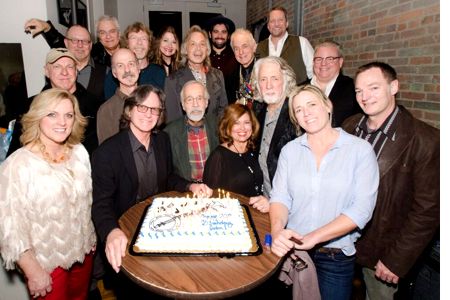 John McEuen says he wanted to have a birthday party at a place where he didn't have to clean up after it was over, so he brought his gang of musician friends together for a birthday jam on the highly popular show, "Music City Roots," at The Factory in Franklin. The String Wizard was joined onstage by country and bluegrass icons Jesse McReynolds, Roland White, Jeff Hanna, David Amram, Rhonda Vincent, Jerry Douglas, Sam Bush, Les Thompson, John Cable, Matt Cartsonis, Bernie Leadon and John Carter Cash.
McEuen's concept for the party was to invite musicians who have influenced his music over the years. From early Dirt Band members Les Thompson, John Cable and Bernie Leadon to friends like Matt Cartsonis, Jerry Douglas, David Amram, Sam Bush and fellow Dirt Band member Jeff Hanna, the group of musicians read like a Who's Who in Music.
Bluegrass greats Jessie McReynolds and Roland White provided that high lonesome sound and some great musicianship, while Rhonda Vincent and John Carter Cash provided additional musical inspiration to the evening.
The group of entertainers played to an enthusiastic, sold-out crowd at The Factory. The combination of musicians performing together on different numbers provided a definite configuration that the audience had probably never seen or heard before.
Hosted by Jim Lauderdale, "Music City Roots" is heard on more than 30 radio stations, including several internet outlets, and can be seen on more than 100 PBS stations, including presenting station, Nashville's WNPT.