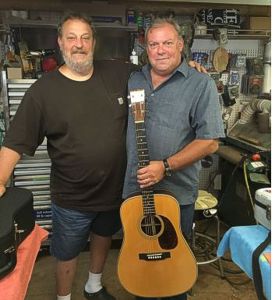 Gary Cotten, self-taught, Master Luthier from Grayson, Kentucky has handcrafted hundreds of beautiful, full, rich sounding guitars since his start many years ago. He carefully selects the musicians that he would like to own and play one of his instruments before handing over a guitar. Jeff Autry is one of the chosen few.
This past weekend, at the Shriner's Bluegrass Festival in Olive Hill, KY, Gary presented one of his fine instruments to Edgar Loudermilk Band, Featured guitarist, and industry veteran, Jeff Autry.
You can listen to someone and tell if they have been taught or if they are a musician. I look for pickers that have paid their dues, that have respect, and I try to give that respect back. I have followed Jeff Autry's music for a long time and I knew he would be a good representative for Cotten Guitars. He has the talent, the good attitude, and he's just one of us good old country boys!
  -Gary Cotten
Autry joins the ranks of band mate Edgar Loudermilk, Shannon Slaughter, members of Hammertowne, and more, in his new endorsement, and had this to say about his newest touring partner:
"Thanks to Mr. Gary Cotten for letting me take one of his beautifully crafted, truly hand built world class C-28 dreadnaughts to have and to hold and to cherish and to work like a rented mule. My old herringbone, unlike me, is starting to show signs of wear after 20 years of hard travel and living on the road. I know #167 is gonna do a fine job helping me do my job as a professional acoustic guitarist performing across our great country. I'll be proud to play her." -Jeff Autry
Jeff Autry is currently on the road promoting a new release on Pinecastle Records with the Edgar Loudermilk Band, Georgia Maple, as well as his re-released Foothills record, also on Pinecastle. They have a very full schedule nationwide and into Canada, so please check the website to see when you will be able to visit with Jeff and his new Cotten guitar!
You can learn more about Cotten Guitars online at www.GaryCotten.com [1]