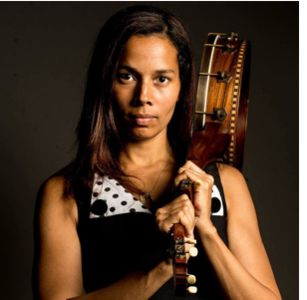 Nashville, TN – Rhiannon Giddens, Co-Founder of Carolina Chocolate Drops, 2016 Steve Martin Prize for Excellence in Bluegrass and Banjo recipient and GRAMMY nominee, delivered the Keynote Address at this year's Internatational Bluegrass Music Association (IBMA) World of Bluegrass Business Conference, Tuesday, September 26, at the Raleigh Convention Center in downtown Raleigh. Her presentation at the annual IBMA event has received praises across the boards from attendees. Many in the media that were present have also voiced nothing but positive words regarding her presentation.
Her address focused on diversity in Bluegrass, the music as a whole, community and the country by breakin down barriers, bringing more into the bluegrass community playing right into this year's theme of "Community and Connection." In actuality, her keynote was a brief history lesson on roots music and bluegrass in particular. Acknowledging the fact that race played a significant part in the roots music that evolved into bluegrass, the predominantly white genre should naturally have a more diverse range of artists and fans. The reserved audience opened up after not being sure how to handle some of her opening comments. By the time it was over, it was just one big family giving a solid round of applause to one of roots music's favorite artists. She not only captured the audience but, she held them in her hand during the entire address. This was one outstanding keynote address for the IBMA and is probably one of the finest keynote addresses in the association's history.
From an IBMA press release, the association notes Giddens came to prominence with the GRAMMY award-winning string band Carolina Chocolate Drops, playing banjo and fiddle. Giddens' 2014 Grammy nominated solo debut, "Tomorrow Is My Turn," blends gospel, jazz, blues, and country, and showcases her dazzling vocal prowess. She performed at the Obama White House, and duets with country star Eric Church on his powerful anti-racism hit "Kill a Word." Giddens also has a recurring role on the recently revived television drama Nashville. Giddens' album "Freedom Highway" was released earlier this year to critical acclaim, and last year she was awarded the BBC2 Folk Award for Singer of the Year.
The impressive arc of Rhiannon Giddens' old-time music career, her knowledge of and contributions to American roots music, and her ability to introduce new audiences to ancient tones place her in a unique position to offer insights into the music industry. She shares, as well, the archetypal path followed by so many in our community: she learned bluegrass from an early age from family members who were bluegrass musicians.
IBMA executive director Paul Schiminger stated, "Rhiannon has embodied this year's Business Conference theme of Community and Connection throughout her life and musical career. Having grown up in a household filled with bluegrass music and then trained in classical voice, she has drawn upon this early foundation to form a creative musical journey. Rhiannon has achieved both critical acclaim and great career success by merging elements of old-time, folk, jazz, country, and bluegrass to reach whole new audiences. Her passion for American roots music, along with her thoughtful and purposeful career, provides each of us a lens through which we can see beyond our own barriers."
The Keynote Address, a gathering that attracts a significant representation of the bluegrass industry's professionals, is held the first night of IBMA's 2017 World of Bluegrass Business Conference, and sets the tone for the week's endeavors. This year's conference theme, Community and Connection, holds particular relevance in bluegrass circles. Professionals and fans of bluegrass music have created a community reaching across great distances, generations, and other divides, real or imagined.
Passion for a shared musical language connects old friends, new acquaintances, and strangers alike. Tunes and songs have flowed back and forth across the boundaries between genres—making clear the connections shared with folk, blues, old-time, rock and roll, and more. This constant stream has worn thin the barriers, simultaneously drawing bluegrass closer to its musical cousins while extending its reach. Across the campfire, the classroom, the boardroom, the stage, and even the globe, differences are dwarfed by the love of bluegrass music, and a dedication as artists and professionals to seeing it grow. When voices blend and work together, the bluegrass community is the force that moves the music forward artistically and powers the growth of the industry.
IBMA's World of Bluegrass, whose principal sponsor is Chiesi USA, is a five-day annual bluegrass music homecoming and convention. World of Bluegrass encompasses four events: the IBMA Business Conference, September 26-28; the Bluegrass Ramble, an innovative series of showcases, taking place September 26-28 in downtown Raleigh and at the Raleigh Convention Center; the 28th Annual International Bluegrass Music Awards, scheduled for Thursday evening, September 28; and PNC presents Wide Open Bluegrass, September 29-30, a two-day festival. The ticketed Wide Open Main Stage features the best of the best in bluegrass today, with a portion of the proceeds benefiting the Bluegrass Trust Fund, a 501(c)(3) charitable organization that assists bluegrass professionals during financial emergencies. The free Wide Open StreetFest brings bluegrass into the community and introduces the music to thousands of new fans every year.